Postcards XI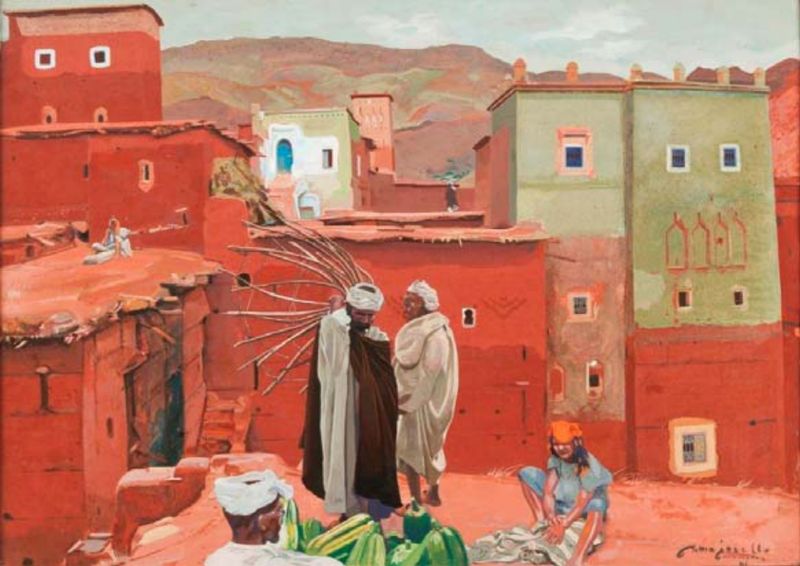 It is time for another Postcard. The aim of the feature is to promote the best music that we have received in the past week in one post. The list is capped at four to allow for a more in-depth look at each featured artist. This week takes us from Highlife, to vamped Western folk, to beautifully and poetically chaotic beats.
Bells Atlas
Prior to Bells Atlas I had no idea what the hell the Highlife music was. Two months later, I find myself an avid listener of Cardinal Rex Lawson, a chief inspiration for frontwoman, Sandra Lawson-Ndu. Much like,
"Video Star"
and
"Loving You Down,"
"Incessant Noise" delves into sentiments that are easily relatable: "Afraid I'll long for what will pass/and find it's empty on the other side/ and so I hold I hold I hold." The track is structured in a brilliant way, with repetition as its hallmark. The repetition hammers home the lyrics while allowing Lawson-Ndu's vocals to roll out organically. The listener is gently lulled into an ethereal world by wavy rolls.
Along with "Incessant Noise," Bells Atlas released a compilation video for "Loving You Down" composed of footage from their recent tour and a trip to Miami for Art Basel
Mary Cassidy & Jon Lawless
A few days back I sent off an email to the duo letting them know I had done a post on
"Verbs."
Awaking the next morning, lo and behold, there was yet another track from the duo sitting in the inbox. "Crowded House" noticeably departs from the upbeat folk of
"Carolina"
and
"So Sure."
Much like "Verbs," "Crowded House" relies heavily on backing synthesizers in place of slurred fiddle lines and steel acoustic. Certainly, the most down-tempo release by the duo, it hits a bit more on R & B, showcasing some versatility. Fans of Chad Valley and Jonquill, might recognize that Cassidy and Lawless sample, "Evening Surrender," from
Young Hunger
. Chances are it won't be long until we here from these guys again.
Shelf Nunny
Splitting Branches
has been my favorite album of the year thus far. A number of the most notable tracks on the album were done in collaboration with Shelf Nunny. "I Feel So Good About Myself" offers some classic Shelf Nunny production. A hallmark of Nunny's sound is the crunchiness that ebbs from it, threatening to invade every nook and cranny of your ear. It is chaotic while controlled, complex while simple, exhilarating while blissful, you get the idea...it is music full of beautiful contradictions. Much like I made a point to get Oliver Nickell's (Tree) backstory as well as the tale behind
Tree Collaborations
, I made a point to find out a bit about Shelf Nunny.
I exchanged some emails with the Santa Cruz beatsmith Christian Gunning (Shelf Nunny)to find out what he has been up to. Gunning had been crafting beats for awhile when he met Oliver Nickell. The end result was Nickell and Gunning have built a strong relationship that has resulted in,
Splitting Branches
EP. Check out the video for
"Tully"
for a sample. When asked about any future collabs, Gunning said, "well as far as the future, I have some collabs set up that I really shouldn't talk about 'till they are finished, but I'm definitely putting out a collaborative Ep with my buddy Holm. We have a few tracks done that will hopefully will be out by summer. I'm working on this new Ep of my solo work a lot and you can expect crazy album art and probably a few music videos."
Gunning isn't a stranger to mixing it up with fame either, having worked with KOOL A.D. of Das Racist on a tune. A musician till the end, Gunning claims, "A lot of good has come to me through music, so I plan to stick with it 'till i die. Maybe make an album on my death bead like J dilla." Look for the upcoming release of the EP,
Dream Album
on
Sleepy Beach
.
Glowing House
The Denver outfit, Glowing House, offer an accompaniment for the spring. It is easy to picture a scene of friends gathered on a patio, smoking cigarettes, tumbler glasses in hand as "The Down & Out" loops. The four-piece are spear-headed by a husband-wife, song writing team which I would imagine adds to a great band dynamic.
The Down & Out
marks the groups third release and can be scooped
here
along with
Days Run Out
. Glowing House figures largely in the Denver music scene collectively as well as individually, an impressive feat. A band to keep on your radar for sure.